Product Detail
Specification
Application
Before & After
video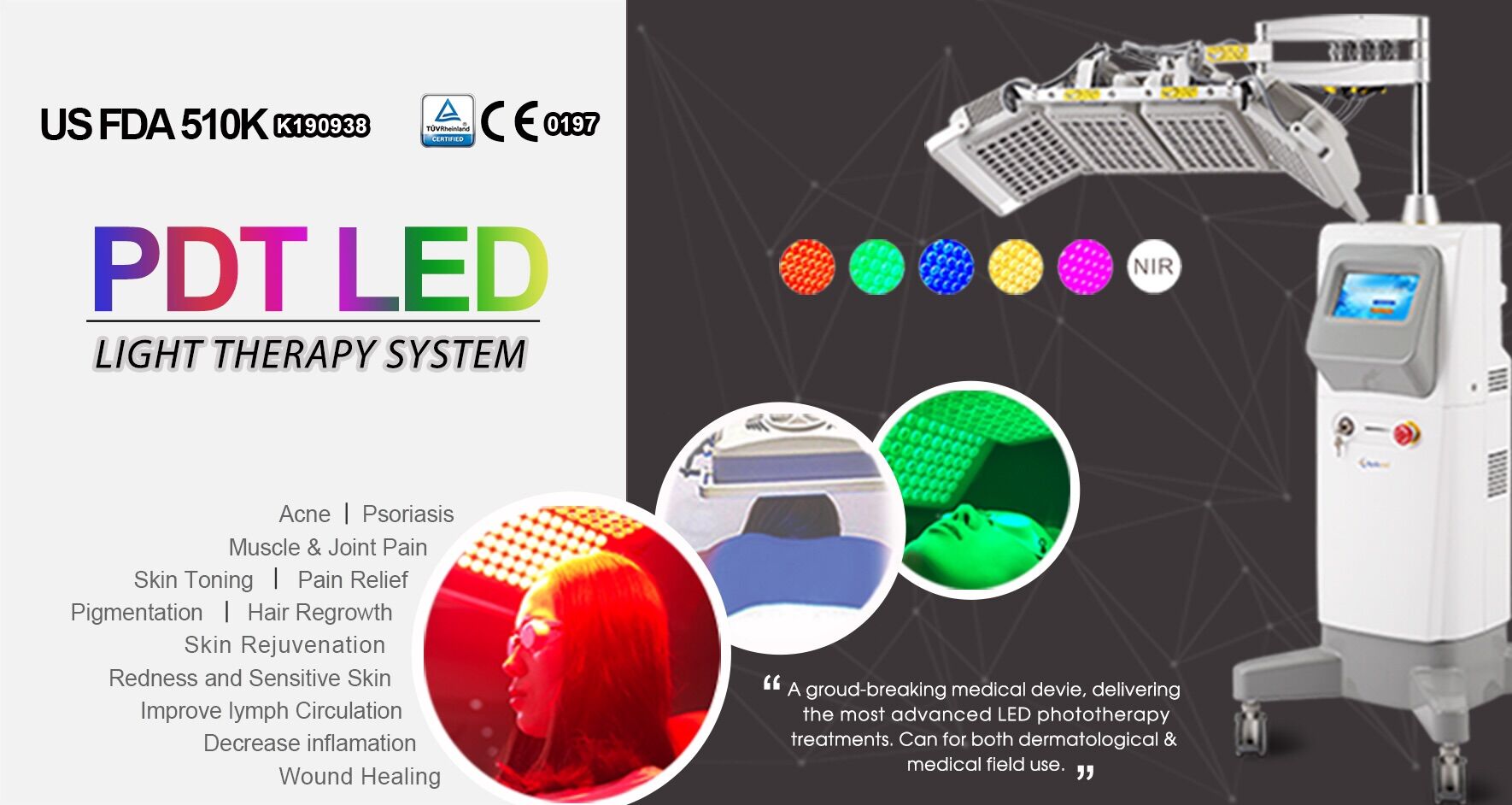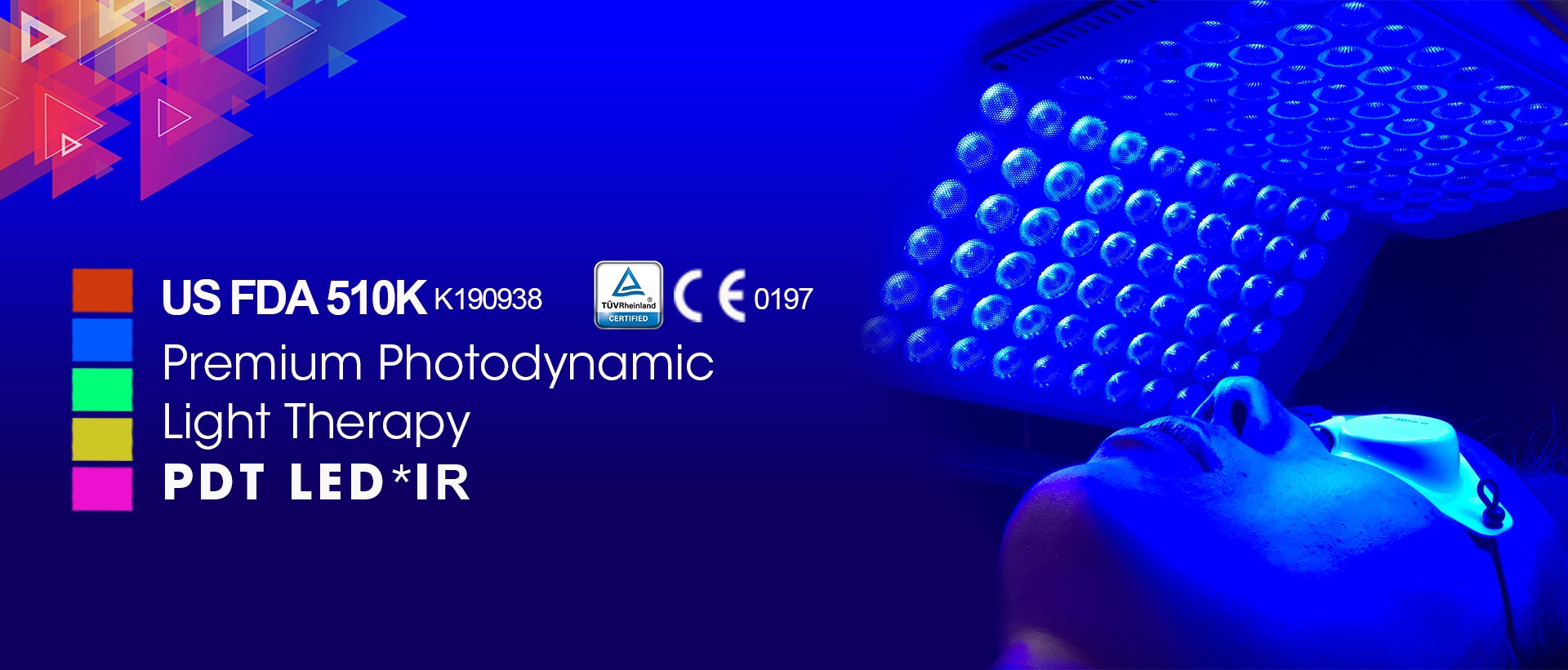 TUV MEDICAL CE MARKED & US FDA CLEARED system with exceptional 12W/LED, proven the most powerful one in market, ensuring amazing and efficiency result in reviving & hydrating the skin, calming down any irritation and giving a glowing, youthful appearance without using any photosensitizer.
TUV MEDICAL CE MARKED & US FDA CLEARED

MULTI COLORS FOR SELECTION

MULTI TREATMENT APPLICATION OF PDT LED
Color

Wavelength (nm)

Out density (mW/cm²)

Treatment application

 Picture

 

Red

 

630

 

120

Increase collagen & elastic fibre production, Reduce wrinkles & increase skin elasticity, Improve skin tone, Reduce redness & inflammation, Accelerate wound healing & bruise resolution, Body contouring

  

Green

520

60

Improve oily skin, Improve lymph circulation, Body contouring

 

Blue

415

120

Anti-bacterial action, Anti-inflammatory, Help control sebum production, Acne healing, Sensitive skin care

 

Yellow

630+520

80

Accelerate blood & lymph circulation, Pigment removal, Improve skin tone

 

Pink

630+415

110

Improve inflammatory acne lesions, Improve skin tone

 

Infrared

850(optional)

120

Wound healing, Pain relief, Anti-inflammatory, Stimulate vascular repair, Reduce melanin production

 
The flexible articulated arm can be extended vertically and 3 or 4 treatment panels and also adjustable for any larger part of body: face, shoulder, low back, thigh, leg etc..

SMART PRE-SET TREATMENT PROTOCOLS
■ 8'' true color touch screen
■ Multi languages supported to meet international market request
■ 2 DIFFERENT TREATMENT MODE FOR SELECTION:
■ STANDARD MODE: with preset recommended treatment protocols (for new operator) to avoid unnecessary harm to facial skin.
■ PROFESSIONAL MODE: with all parameter adjustable (for skilled operator).

---
Previous:
Microdermabrasion HS-106
Next:
Platform Series-HS-900
---
Light source

PDT LED

Color

Red

Green

Blue

Yellow

Pink

Infrared

Wavelength (nm)

630

520

415

630+520

630+415

830

Output density (mW/cm2)

120

60

120

80

110

120

LED power

3W/color, 4 colors

LED quantity

60pcs LED/panel

Operate mode

Professional mode & Standard mode

Dimension

50*50*235cm (L*W*H)

Weight

50Kgs
TREATMENTS APPLICATION
Color

Wavelength (nm)

Out density (mW/cm²)

Treatment application

 Picture

Red

630

120

Increase collagen & elastic fibre production, Reduce wrinkles & increase skin elasticity, Improve skin tone, Reduce redness & inflammation, Accelerate wound healing & bruise resolution, Body contouring

 

 

Green

520

60

Improve oily skin, Improve lymph circulation, Body contouring

 

Blue

415

120

Anti-bacterial action, Anti-inflammatory, Help control sebum production, Acne healing, Sensitive skin care

 

Yellow

630+520

80

Accelerate blood & lymph circulation, Pigment removal, Improve skin tone

 

Pink

630+415

110

Improve inflammatory acne lesions, Improve skin tone

 

Infrared

850(optional)

120

Wound healing, Pain relief, Anti-inflammatory, Stimulate vascular repair, Reduce melanin production